MAKING THE TRANSITION TO ISO 14001:2015 - Understanding the requirements and implications of the new standard
Overview
This one-day IEMA Certified interactive and practical course is aimed at individuals who are responsible for implementing or maintaining an environmental management system based on ISO 14001. It will provide an overview of the new requirements of ISO 14001:2015 to enable delegates to evaluate and implement changes and improve their organisationís environmental management system
This course is based on the Draft International Standard ISO/DIS 14001 and delegates should be aware that the draft requirements may be amended by ISO on final publication of the standard.
The course is mapped to the Managerial Level of the IEMA Environmental Skills Map and will give delegates the tools to adapt to the updated standard. A copy of the IEMA EMS Gap Analysis Tool will also be provided to assist in the transition to ISO 14001:2015.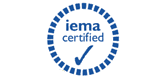 Our course is approved by the UK Institute of Environmental Management and Assessment (IEMA).
Key Skills / Learning Objectives
Through the combination of interactive tutorials and workshops, our course will enable the delegates to:
Understand the proposed changes to ISO 14001:2015 and their intent.
Undertake a Gap Analysis of their organisationís current status
Identify and plan actions to enable an organisation to conform to, and realise the benefits of, the new requirements.
Course Outline
Practical workshops are designed to reinforce the discussions and topics. This style of delivery makes the course both memorable and enjoyable for participants, ensuring long-term learning.
Background to the revision of ISO 14001
Organisational context
Risk associated with threats and opportunities
Value chain
Integration into core business processes
Implications for existing management systems and processes
Environmental sustainability
Applying the IEMA Gap Analysis Toolkit
Planning the implementation of required changes
As part of the course, each delegate will benefit from IEMAís electronic ISO 14001 Gap Analysis Tool to assist in the planning, management and transition to ISO 14001:2015.
This course is recognised as contributing to IEMAís CPD requirements.
Who Should Attend?
Environmental Auditors/Lead Auditors
Senior Managers who need to understand the business implications of the changes to ISO 14001:2015
Personnel responsible for managing their organisationís existing EMS
Those responsible for advising their organisationís implementation strategy for ISO 14001
Booking and ISO 14001 Course Fees
Fees include:
Delegate workbook, including reference information and IEMSís Gap Analysis Toolkit
Training provided by qualified and experienced tutors with extensive practical management auditing experience across a variety of manufacture and service industries
Lunch and refreshments during the day
Certificate verifying attendance and completion of course
Variable discounts available if 2 or more delegates are booked on the same course
Please complete the booking form and return together with the relevant fee. Contact us for further information.
More Information
ISO 14001 course dates and venues
Request further information
In-House training
Associated courses
What our customers say