ISO 14001 EMS Lead Auditor Training Course

I found Excel to be the best value for money. The tutor was easy going which made the course relaxed and fun and it gave me the skills needed to begin leading audits.
Overview
This intensive, challenging and highly interactive and practical course is designed to develop delegates' skills to conduct Environmental Management System (EMS) audits in order to:
Promote their own organisation's performance and identify opportunities for improvement
Begin implementing a management system based on ISO 14001 and consider how ISO 14001 can be integrated into existing management systems
Contribute to the requirements to register as an IEMA Environmental Auditor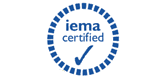 Our course is approved by the UK Institute of Environmental Management and Assessment (IEMA).
Course Objectives
Our course will enable delegates to objectively apply the requirements and principles of ISO 14001 and EMAR, providing environmental practitioners and systems auditors with the understanding and skills necessary to professionally audit an EMS. It will also provide an excellent opportunity for those wishing to benchmark and framework their experience and environmental knowledge in relation to their roles and responsibilities.
We incorporate a unique 'slide photo tour', allowing delegates to visualise and identify site issues, providing an element of 'real-life' auditing and observation in the class-room environment.
Key Skills / Learning Objectives
Through the combination of interactive tutorials, workshops, photo site tour, case studies and simulated audits, our course will enable the delegates to:
Apply the requirements and principles of ISO 14001 to the specific processes and needs of your company as well as those of your suppliers.
Assess compliance of an organisation to meet your company's own internal or external (eg. Certification Body) requirements.
Plan, develop and implement an internal audit process appropriate to your organisation and which supports your environmental policy.
Conduct audits to professional criteria with confidence, gathering objective evidence through observation, interviewing, document trails to provide factual audit reports that will facilitate improvements to the EMS.
Achieve the formal training requirements to allow progression to becoming an IEMA Registered Lead Auditor
Defining the purpose and structure of the EMS Standards ISO 14001, Eco-Management and Audit Regulation (EMAR)
Review of environmental legislation and codes of practice
Identification of environmental aspects and impacts, risk evaluation
Principles of auditing, auditor skills and responsibilities and the audit cycle:

Planning - use of checklists
Interviewing and evaluation of information
Observation - objective evidence
Evaluating the significance of nonconformities
Corrective actions and effective follow-up programmes to deliver improvement

Accreditation and certification activities
Sources of information and further development
Who Should Attend?
Those responsible for obtaining third party EMS certification to ISO 14001 / EMAS for their organisation.
Auditors who want to assess environmental management systems and who need to show professional competence in this subject.
Those with existing environmental auditing experience who wish to progress or benchmark their experience.
Auditors with no formal EMS training wishing to put a framework around their experience and enhance their auditing knowledge and skills.
Senior managers who will have to understand the outcome of EMS audits and have responsibility/authority to improve the effectiveness of the EMS.
Booking and Course Fees
Delegates successfully completing the course, including the examination, will be awarded an IEMA registered certificate.
Fees include:
Registered IEMA certificate verifying attendance and completion of course
Student Manual, including substantial reference information
Training provided by qualified and experienced tutors with extensive practical management auditing experience across a variety of manufacture and service industries
Lunch and refreshments during the day
Residential accommodation and evening meal (4 nights)
More Information
Training course description in PDF
ISO 14001 course dates and venues
Request further information
In-House training
Associated courses
What our customers say